Frequently asked questions
If it is found to be stained, avoid dry cleaners, which do not always have the right products, as misuse of products can further damage your hat.
In case of stains on the outside of the hat. Drop it off at our shop and we will give you a quote to clean it if possible.
If your hat is stained on the inside of the forehead by your make-up or greasy marks, we advise you to dab and wipe the stained area with a clear cloth soaked in scarlet water.
How do I maintain my hat?
You can brush the felt caps to remove dust and put the hair back in the right direction. Use a natural bristle brush or a velvet bristle brush to do this. Turn in a spiral, from the top of the hat to the brim, in an anti-clockwise direction.
Buying a hat box is a wise investment to protect your hat from dust or possible deformation.
If you don't have a box, store your hats in a bag, on a shelf, flat, stuffed with tissue paper, and protect them from dust so that they don't become deformed or dirty.
Store your hat away from sunlight or, even worse, moonlight, which could cause it to discolour. A strong heat source could deform it, or make it shrink. Some materials are sensitive to wide variations in humidity and dryness.
How to measure your hat size?
Take a tape measure with you. If you don't have one, you can use a piece of string which you can then transfer to a ruler.
Place your tape measure 1 centimetre above your eyebrows, passing over your ears until you reach your occipital hump (the strongest part at the back of your head). Do not overtighten.
Read the nearest size and refer to the table below.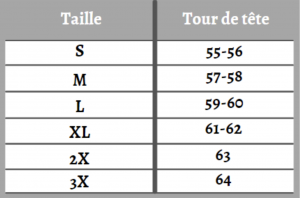 In our shop, we take care to listen to your requests and desires. To create a hat that suits you. Our goal? To make you more beautiful than you already are.
How do I get a hat or headdress made to measure?
Visit our website, between the collections and our e-shop you will find inspiration for your custom-made hat.
Please contact us by email, phone or via social networks, so that we can arrange a meeting.
Visit our shop to make your dreams come true.
If you are unable to come to our shop Laurence Bossion, 10 rue Saint Roch, 75001 PARIS. we can find a solution. Please contact us.
How do I order on our website?
Click on our e-shop.
Choose the section (Spring-Summer, Autumn-Winter).
Click on the product(s) you are interested in.
Please feel free to enlarge the photo to see the product better.
Choose the colour and size you are interested in and add it to the basket.
You can then continue shopping or place your order.
Place your order by clicking on your basket.
Register and select a payment method.
Check your contact details, delivery address and billing address carefully.
Click on order.
Your delivery will be made within 2 weeks.
Where are our products made?
Our hats are made in our boutique atelier Laurence Bossion located at 10 Rue Saint-Roch, 75001 Paris. As you enter the shop you will see the milliners working in the workshop at the back.
Why choose Laurence Bossion hats?
At Laurence Bossion, quality is paramount, all our hats are handmade with noble and durable materials by highly qualified employees.
Moreover, you will be welcomed and advised by a team that has acquired a know-how over many years. These hat enthusiasts are at your service to guide you in your choices.
In this way, you will be supporting the work of Artisan d'Art, which has been awarded the EPV (Entreprise du Patrimoine Vivant) label and is made in Paris. Get involved and get in tune with your ideas.